The European Education and Culture Executive Agency (EACEA) and the European Commission are holding an online information session to present the 2022-2027 Intra-Africa Academic Mobility Scheme and the first call for proposals (published on 4 April 2023). 
The event will take place on 21 April 2023 from 9:30 – 12:30 (CET/CEST, Brussels time) and will be web streamed.
Speakers will inform participants about the new Intra-Africa Academic Mobility Scheme, its main objectives and features. They will give advice on how to prepare an application in response to the first call for proposals and how to submit it in the Funding and Tender Opportunities Portal.
As described in section 6 of the call document, please note that eligible Higher Education Institutions that wish to apply for an Intra-Africa project grant are the target audience of this call for proposals and information event.
If you are a student or a staff member looking for scholarship opportunities, please see the Intra-Africa scholarships page where you can find more information on how to search and apply for an Intra-Africa scholarship.
The link to the web streaming is available here
Participants are invited to send their questions in advance using the following email address: EACEA-IntraAfrica-IntraACP

ec [dot] europa [dot] eu (EACEA-IntraAfrica-IntraACP[at]ec[dot]europa[dot]eu). The address will also be available during and after the session.
The recording and PowerPoint presentations will be available on this page after the event.
Registration is compulsory to follow this event in web streaming.
fund (EU)

Friday 21 April 2023, 09:30 - 12:30 (CEST)

Online only
Live streaming available
Practical information
When

Friday 21 April 2023, 09:30 - 12:30 (CEST)

Where

Languages

English
Description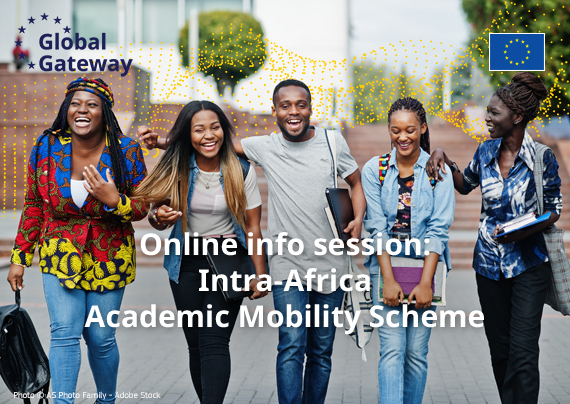 Agenda
Q&A - Info Day: Intra-Africa Academic Mobility Scheme
English
Download
9:30 - 10:00

Welcome address 

EU-Africa partnership in Education and skills

10:00 - 10:50

Session 1: Intra-Africa Academic Mobility Scheme: objectives and main features - Info Day: Intra-Africa Academic Mobility Scheme

English

Download

 

10:50 - 11:00
Break
11:00: 11:50

Session 2: How to prepare your application - Info Day: Intra-Africa Academic Mobility Scheme

English

Download

 

11:50 - 12:20

Session 3: Submission procedure in the Funding and Tender Opportunities Portal (FTOP) - Info Day: Intra-Africa Academic Mobility Scheme

English

Download

 

 

12:20 - 12:30

Closing remarks