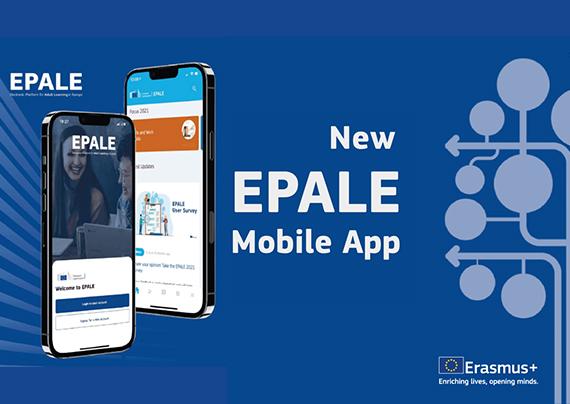 EPALE is thrilled to announce its new mobile app! Now you will be able to access everything you need on your mobile device.
The app is FREE for you to download and is part of the European Commission's commitment to support and empower the adult learning community.
The new mobile app is available for iOS and Android devices. Go to the Play store or App Store on your device, and search for EPALE to download and install the app.
Once you have downloaded the EPALE App to your device, what should you do next?
Signup
It's easy! You can log in to your account by entering your EPALE email/username and password, or via EU Login as you do on the platform. Or, if you are not registered yet, you can sign up for a new account on EPALE.
Settings
From the app menu, select MY EPALE. There you will find your Dashboard, your Trainings, your Groups and your Profile. Want to change to another language and access a different version of the platform? In My profile, on the upper right, select your preferred language to change from one language to another whenever you want.
Virtual guide
Now that you are ready to explore the app, let's have a look at the Menu tab, at the bottom, and at the main features of the new EPALE app.
The HOMEPAGE has the latest updates and the most recent content.
The CONTRIBUTE section showcases the latest content by format (Blog posts, News, Events, Resources, Community Stories) to explore what is going on in the EPALE community.
The COLLABORATE section gives you access to all the collaborative activities on EPALE, such as the Communities of Practice, Discussions, the Partner Search function, Collaborative Spaces, the Community of EU VET Practitioners, and the brand-new Erasmus+ Space!
Finally, the ABOUT section provides support from the Helpdesk, allows you to consult the FAQs, and enables you to find more information about EPALE in your country. Why wait? Download the app from stores now!
Details
Publication date

22 December 2021

Author