Thank you for completing the EU survey
You can find the recording and presentations of the event below.
Rapid technological change, digitalisation, climate change, circular economy, and new forms of work call for innovative ideas to ensure that vocational education and training (VET) not only adapts to change, but is at the forefront of mastering and driving this change.
Centres of Vocational Excellence (CoVE) provide training in specific areas for initial training of young people as well as for continuing up-skilling and re-skilling of adults. Yet, the CoVEs are also intended to achieve much more: to innovate teaching and learning methods, to work closely with businesses, social partners, universities etc., to develop inclusive approaches to ensure nobody is left behind, and to foster regional and local development, among other activities.
This Erasmus action aims to create innovative and responsive VET institutions capable of rapidly adapting skills provision to the economic and social needs, including the digital and green transitions, while fostering new ways of collaborating at regional, national and transnational levels. It aims at creating synergy between partners from all over the world in the creation of skills ecosystems in a bottom-up approach.  Moreover, this action will provide young people and adults with the skills for fulfilling careers in an innovative, inclusive and sustainable economy.
 
Further information
The Centre of Vocational Excellence CoVEs 2022 online information session was organized by the European Education and Culture Executive Agency (EACEA), in collaboration with the European Commission. The info session took place on 7 March 2022 from 14:00 to 17:00 CET in an interactive form and it covered the following topics:
The context and priorities of the policy and the call, its objectives and expected results;
How to submit a successful application and its criteria;
Advice from experienced project coordinators of ongoing Centres of Vocational Excellence funded in 2020;
Guidance through the application forms, funding mechanism and budget form.
The factsheet on the 2022 Centres of Vocational Excellence call for proposals is available here
Information on this call is available in the Erasmus+ Programme Guide 2022.
In order to get more support with your application, we invite you to read the EACEA guide: How to get a grant and the Webinar session: The Funding & tenders Portal for beginners.
You will find more details about the Centres of Vocational Excellence on the  Funding and Tender Opportunities Portal. The portal also offers a useful online manual (business guide) and an IT How to section, providing support with the technical aspects of submitting a proposal online.
For more details, please consult the agenda below. Presentations can be downloaded.  Participants sent their questions to the helpdesk, and some of them were answered live during the Q&A session. In case you have any queries about the action, we invite you to send us an email to the following email address:
EACEA-EPLUS-VET

ec [dot] europa [dot] eu (EACEA-EPLUS-VET[at]ec[dot]europa[dot]eu)
education grant

Monday 7 March 2022, 13:45 - 17:00 (CET)

Live streaming available
Practical information
When

Monday 7 March 2022, 13:45 - 17:00 (CET)

Languages

English
Description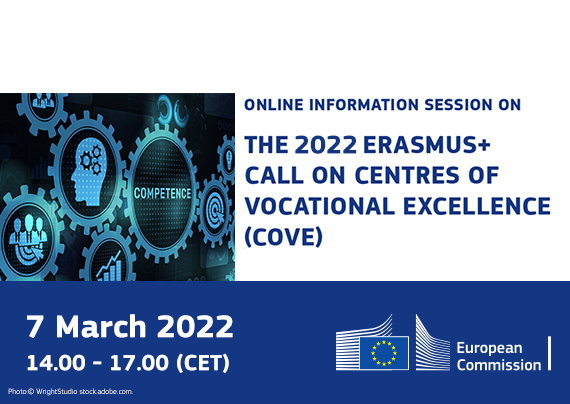 13:30 – 14:00

Onboarding of participants

14:00 – 14:10

Welcome - Online Information Session: Centres of Vocational Excellence 2022

English

Download

Watch here the recording of the session
Michèle Grombeer 
EACEA

14:10 –14:20

Policy context, objectives of the call and expected results

Vocational Education and Training in the new Erasmus+ Programme (2021-2027) - Online Information Session: Centres of Vocational Excellence 2022

English

Download

Watch here the recording of the session
Malgorzata Kozak  
EAC

Priorities - Online Information Session: Centres of Vocational Excellence 2022

English

Download

Watch here the recording of the session
Joao Santos
EMPL

14:50 – 15:20

The criteria for a successful application (eligibility, selection, exclusion and award criteria) - Online Information Session: Centres of Vocational Excellence 2022

English

Download

Watch here the recording of the session
Sibylle Lacave
EACEA
Hélène Barry
EACEA

15:30 – 15:50

Advice from experienced project coordinators - Online Information Session: Centres of Vocational Excellence 2022

English

Download

Watch here the recording of the session
EPLUG – European Platform for Urban Greening
Jan Jeronimus ( Stichting YUVERTA)

Watch here the recording of the session
3LoE – Three-level Centers of Professional Excellence: Qualification, Entrepreneurship & Innovation in the Green Economy 15:49:51
Max Hogeforster (Hanse-Parlament EV)

15:50 – 16:15

The submission procedure and application forms - Online Information Session: Centres of Vocational Excellence 2022

English

Download

Watch here the recording of the session
Silvia Homberger
EACEA

16:15 – 16:40

Guidance for preparing a sound budget (the funding mechanism and budget form) - Online Information Session: Centres of Vocational Excellence 2022

English

Download

Watch here the recording of the session
Hélène Barry
EACEA

16:40 – 16:55

Questions and answers - Online Information Session: Centres of Vocational Excellence 2022

English

Download

Watch here the recording of the session

16:55 – 17:00

Closure of the event