The European Education and Culture Executive Agency (EACEA) is holding an online "Sport Pilot Projects & Preparatory Actions Info Session" on 27 September 2023 to inform future applicants about how to apply to the two calls published on the Funding & Tenders Opportunities Portal (F&TP).
Please join the Info session 15 minutes before the opening time of the event!
Register and join the online event here.
When registering/connecting to the event, participants are encouraged to provide, to the extent possible, anonymised data to register and to interact during the event (corporate email address without name e.g. contact[at]companyname[dot]com)
education grant

Wednesday 27 September 2023, 14:00 - 17:00 (CEST)

Online only
Practical information
When

Wednesday 27 September 2023, 14:00 - 17:00 (CEST)

Where

Languages

English
Description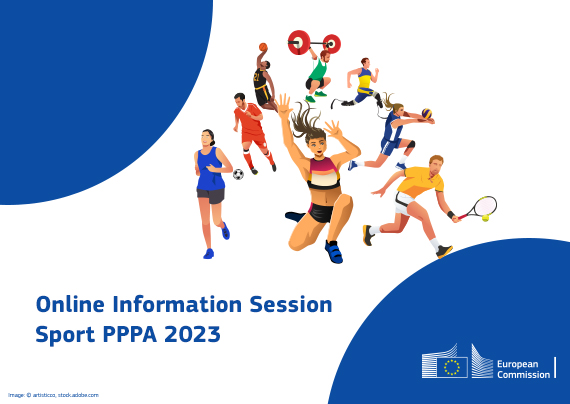 Agenda 
14:00-14:45

Session 1

Opening & Introduction

The Pilot Projects & Preparatory Actions

Tiziana Beghin, Member of the European Parliament

Vice-Chair of the Sports Group

Yves Le Lostecque, Head of Erasmus Mundus & Sport Unit

EACEA - European Education and Culture Executive Agency

14:45-15:45

Session 2

The Pilot Projects & Preparatory Actions 2023

Administrative and financial aspects

France Dantin, EACEA

Anne Spangemacher, EACEA

Izabela Pelczynska, EACEA

Moderator: Izabela Pelczynska, EACEA, Erasmus Mundus & Sport Unit, Sport Sector

15:45–16:00

16:00-16:45

Break

Session 3

Q&A session

Moderator: Chiara Funari, EACEA, Erasmus Mundus & Sport Unit, Sport Sector

16:45-17:00

Conclusions

Yves Le Lostecque, Head of Erasmus Mundus & Sport Unit, EACEA