During the Infoday, the Agency will present the funding opportunities of the international dimension of the Erasmus+ programme, targeting Latin America and the Caribbean. This will be an opportunity for higher education institutions and eligible organisations interested in strengthening cooperation with these regions to learn about the activities that can be funded via the Erasmus+ programme.
If you you wish to prepare a project proposal under the Erasmus+ programme targeting Latin America and the Caribbean then this event is for you!
We will provide you with information on all new features and you will have the chance to learn tips, ask questions and receive answers online.
Please register below to follow the event online on 29 November 2022 from 15:00 (Brussels time).
Click here to join the event.
Questions will either be answered during the session or later, depending on the number of questions received.
More information on the Erasmus+ programme and on how to apply can be found here.
Description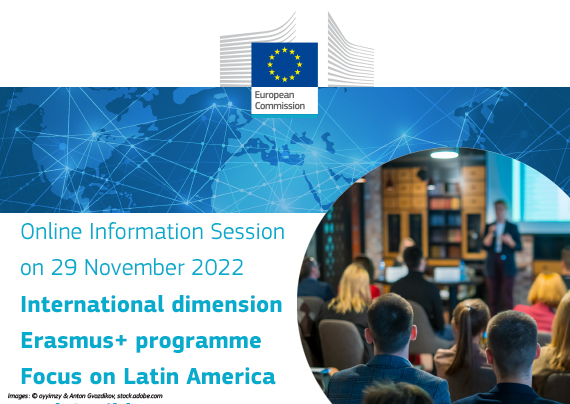 14:45-15.00
Connect to the meeting (Brussels time)
15:00-15:10

Political context European Union - LAC:

Objectives of the Erasmus + international dimension
Regional priorities

 

How to prepare a competitive project proposal targeting Latin America and/or the Caribbean

under the following international Erasmus + actions:

15:10-15:30
International Mobility
15:30-15:50
Erasmus Mundus Action
15:50-16:10
Capacity Building in Higher Education
16.10-16.30
Capacity Building in the field of Vocational Education and Training
16.30-16.50
Jean Monnet Actions
16:50-17:00
Questions and answers
* The presentations will take place in Spanish, with English documentation and subtitles.