The aim of the event is to present the action, the policy priorities, the application procedure, the eligibility and award criteria and the financial aspects of funding.
The event will be available via web streaming only: link to the web streaming 
The aim of the action Alliances for Innovation is to strengthen cooperation and flow of knowledge among higher education, vocational education and training (both initial and continuous), and the broader socio-economic environment, including research.
In particular, it seeks to boost innovation by supporting projects with a specific focus on talent and skills development. Digital competences have become increasingly important in all job profiles across the entire labour market. In addition, the transition to a circular and greener economy needs to be underpinned by changes to qualifications and national education and training curricula to meet emerging professional needs for green skills and sustainable development. The twin digital and green transition requires an accelerated adoption of new technologies, in particular in the highly innovative deep tech domains, across all sectors of our economy and society.
The objectives of the action are implemented through two different lots:
Lot 1: Alliances for Education and Enterprises
Lot 2: Alliances for Sectoral Cooperation on Skills (implementing the 'Blueprint')
More information on the action can be found in the Call page on the Funding and Tender Opportunities Portal and in the Erasmus+ Programme Guide (available in all official languages of the EU) as from p. 275.
Please fill in the feedback survey
Toolkits 
Toolkit - How to fill in the Technical description of the project - Online Info Session: Alliances for Innovation 2023
English
Download
Toolkit - How to fill in the Detailed Budget - Online Info Session: Alliances for Innovation 2023
English
Download
Toolkit - How to prepare and submit an application - Online Info Session: Alliances for Innovation 2023
English
Download
education grant

Thursday 9 March 2023, 14:00 - 17:00 (CET)

Live streaming available
Practical information
When

Thursday 9 March 2023, 14:00 - 17:00 (CET)

Where

Languages

English
Description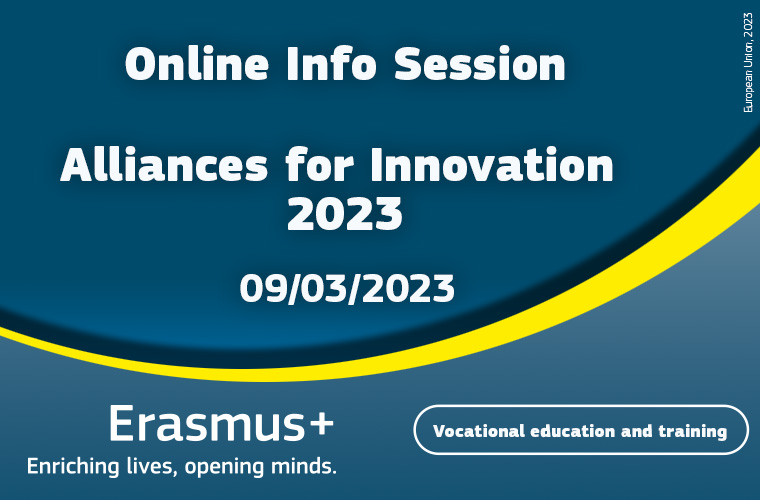 13.30  

Onboarding of participants 

14.00                 

Welcome - Online Info Session: Alliances for Innovation 2023

English

Download

Lorenzo GABRINI-BELLINCAMPI, Head of Sector (EACEA) 

14.10

Slido session – Ice-Breaker

Caterina DE GIOVANELLI (EACEA) 

14.15–15.00 

POLICY CONTEXT 

14.15

Lot 1: Alliances for Education and Enterprises -  Online Info Session: Alliances for Innovation 2023

English

Download

Paul TZIMAS / Sylvia BOTTARIN (DG EAC) 

14.35

Lot 2: Alliances for Sectoral Cooperation on Skills (Blueprint) - Online Info Session: Alliances for Innovation 2023

English

Download

Felix ROHN (DG EMPL)

14.55

Questions and answers 

15.10-15.25 

Break

15.25-17.00

HOW TO PREPARE AN APPLICATION 

15.25 

Slido session – Ice breaker

Caterina DE GIOVANELLI (EACEA)  

15.30 

Main features of the 2023 Call for Proposals:  

Eligibility, Selection and Award criteria - Lot 1 - Online Info Session: Alliances for Innovation 2023

English

Download

Eligibility, Selection and Award criteria - Lot 2 - Online Info Session: Alliances for Innovation 2023

English

Download

Silvia DE BENEDETTI/Cristina CAMAIANI (EACEA) 

16.00 

Financial aspects - Lump Sums Type II - Online Info Session: Alliances for Innovation 2023

English

Download

Emilia VENOT (EACEA)  

16.15

Tips on how to write a good project proposal - Do's and Don'ts - Online Info Session: Alliances for Innovation 2023

English

Download

Paolo ZANCANELLA (EACEA) 

16.35

Questions and answers

17.00

Closure of the event