Detailed information about the citizens' engagement and participation call is available on the Funding & Tender Opportunities Portal.
The aim of this info session is to provide information about the call for proposals and give you the opportunity to ask questions.
Further Information
To get you started please refer to the Webinar session: The Funding & tenders Portal for beginners
The Funding and Tender Opportunities Portal also has a useful online manual to help you with the technical aspects of submitting a proposal online.
All presentations and a summary of the Q&A session can be found below.
civil society

Tuesday 14 December 2021, 10:00 - 12:00 (CET)

Live streaming available
Practical information
When

Tuesday 14 December 2021, 10:00 - 12:00 (CET)

Languages

English
Description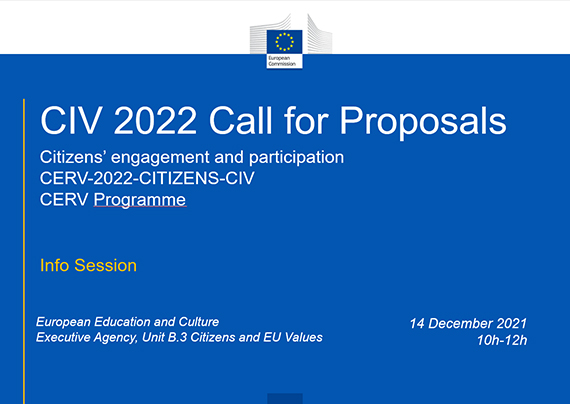 10:00-10:10
Connection of participants & Speakers to Webex

Moderator Inna Petrenko

EACEA B.3 Head of Sector

10:10-10:20
ONE EACEA

Gilles Pelayo

EACEA B.3 Head of Unit

10:20-10:40

Call for proposals Citizens' engagement and participation 

CERV-2022-CITIZENS-CIV

Information on policy priorities, areas of intervention, budget available, expected activities and results

Daniela Mormile

DG JUST Unit 04 Policy Officer

10:40-10:50
Q&A

Daniela Mormile

DG JUST Unit 04 Policy Officer

10:50-11:00
Break
 
11:00-11:30
Application process, evaluation criteria, information on budget, the Funding and Tender Opportunities Porta, timeline grant signature and other topics

Chiara Sorge, Natalia Mereanu

EACEA B.3 Call Coordinators

11:30-12:00
Q&A

Chiara Sorge, Natalia Mereanu

EACEA B.3 Call Coordinators
Info Session Agenda - EACEA CIV 2022
English
Download
Presentations - EACEA CIV 2022
English
Download