The two half days on-line meetings were addressed to the Erasmus Mundus Joint Masters (EMJM) projects selected in 2021.
The meeting took place on-line in the mornings of February 8 and 9, and brought together representatives of EMJM consortia, staff from the European Commission and the Executive Agency (EACEA), representatives from the Erasmus Mundus Alumni Association (EMA) as well as the International Contact Points (ICP) of the National Agencies.
The purpose of the meeting was:
To provide information about the management of EMJM projects and the monitoring operated by the Executive Agency;
To give an overview of EACEA approach of EMJMD project management in times of COVID-19;
To hear testimonials from best practice EMJMD projects and their implementation;
To present an overview of the Erasmus+ future perspectives.
education grant

Tuesday 8 February 2022, 09:30 - Wednesday 9 February 2022, 12:30 (CET)
Practical information
When

Tuesday 8 February 2022, 09:30 - Wednesday 9 February 2022, 12:30 (CET)

Where

Languages

English
Description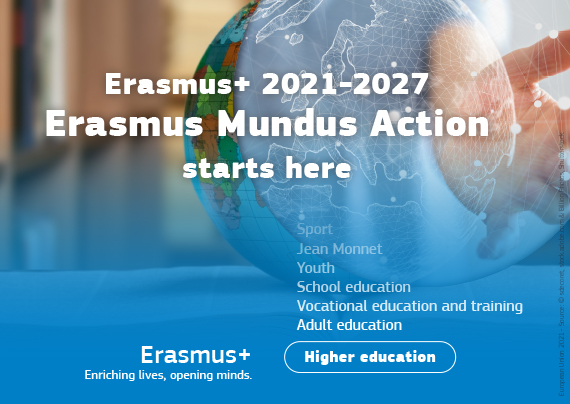 8 February 2022
09:00 - 09:30
Connection of participants
09:30 - 10:30

Welcome and Opening remarks
Yves Le Lostecque– EACEA.A.3 Head of Unit

 

Overview of the selection results - Erasmus Mundus Joint Masters Kick-off meeting 2022 

English

Download

Magali Gillain - EACEA.A.3

 

Implementing EMJM:

Overall operational, financial and administrative approach - Erasmus Mundus Joint Masters Kick-off meeting 2022 

English

Download

Philippe Ruffio- EACEA.A.3  

Grant agreement overview - Erasmus Mundus Joint Masters Kick-off meeting 2022 

English

Download

Teodora Docheva- EACEA.A.3

10:30 - 10:45
Break
10:45 - 12:30

Project & scholarship management - Erasmus Mundus Joint Masters Kick-off meeting 2022 

English

Download

Bart Cosyns and Despina Christadoni - EACEA.A.3

 

Monitoring & reporting - Erasmus Mundus Joint Masters Kick-off meeting 2022 

English

Download

Belen Enciso - EACEA.A.3

 

Introduction to the new Mobility Tool -  Erasmus Mundus Joint Masters Kick-off meeting 2022 

English

Download

Ghislaine Craeghs - EACEA.A.3

 
9 February 2022
09:00 - 09:30
Connection of participants to respective WebEx meetings
09:30 - 10:30

EMJM project management in times of COVID-19 - Erasmus Mundus Joint Masters Kick-off meeting 2022 

English

Download

Elisa Maviglia – EACEA.A.3

 

Best practice project testimonial/implementation in EMJMD - Erasmus Mundus Joint Masters Kick-off meeting 2022 

English

Download

Robert Wagenaar –University of Groningen (Euroculture)

 

Exchange of experience and best practice among projects:

David Flacher - Erasmus Mundus Association for Consortia CooperaTIon (EMACT)

English

Download

Wicher Schreuders - Association for the Promotion and the Development of Joint International Programmes in higher education (ProDeJIP)

English

Download

 

10:30 - 10:45          

Break

10:45 - 12:30

Promoting and developing the Erasmus Mundus community: Erasmus Mundus Students and Alumni Association - Erasmus Mundus Joint Masters Kick-off meeting 2022 

English

Download

Gabriella Mikiewicz – EMA President

 

Testimony of a former EMJMD scholarship holder- Erasmus Mundus Joint Masters Kick-off meeting 2022 

English

Download

Martina Filinich – EACEA.A.3  

 

Erasmus+ future perspectives - Erasmus Mundus Joint Masters Kick-off meeting 2022 

English

Download

Bruno Castro – DG EAC.C.3

 

Closing remarks

Jacques Kemp – EACEA.A.3
Questions & Answers - Erasmus Mundus Joint Masters Kick-off meeting 2022
English
Download