The European Commission and the European Education and Culture Executive Agency (EACEA) will hold an online Erasmus+ Sport 'Infoday' on 31 January 2022 and 1 February 2022 to inform potential applicants about the political context, programme, simplification and funding opportunities in 2022.
The event will be available via web streaming only.
Speakers will discuss policy and give advice and tips on preparing and submitting proposals, and on the financial aspects of funding.
There will also be a chance to network during the day and contact potential partners via the ConnexMe application. The application will be used to facilitate interaction between participants.
Live web streaming of all sessions will be available during the day of the event in (English, French, German, Spanish, Italian and sign language). It will also be possible to interact on Twitter using the hashtag #sportinfoday.
Education grant

-

Live streaming available
Practical information
When

-

Languages

English, French, German, Spanish, Italian

Live stream

Livestream

Online link

Online time

-
Description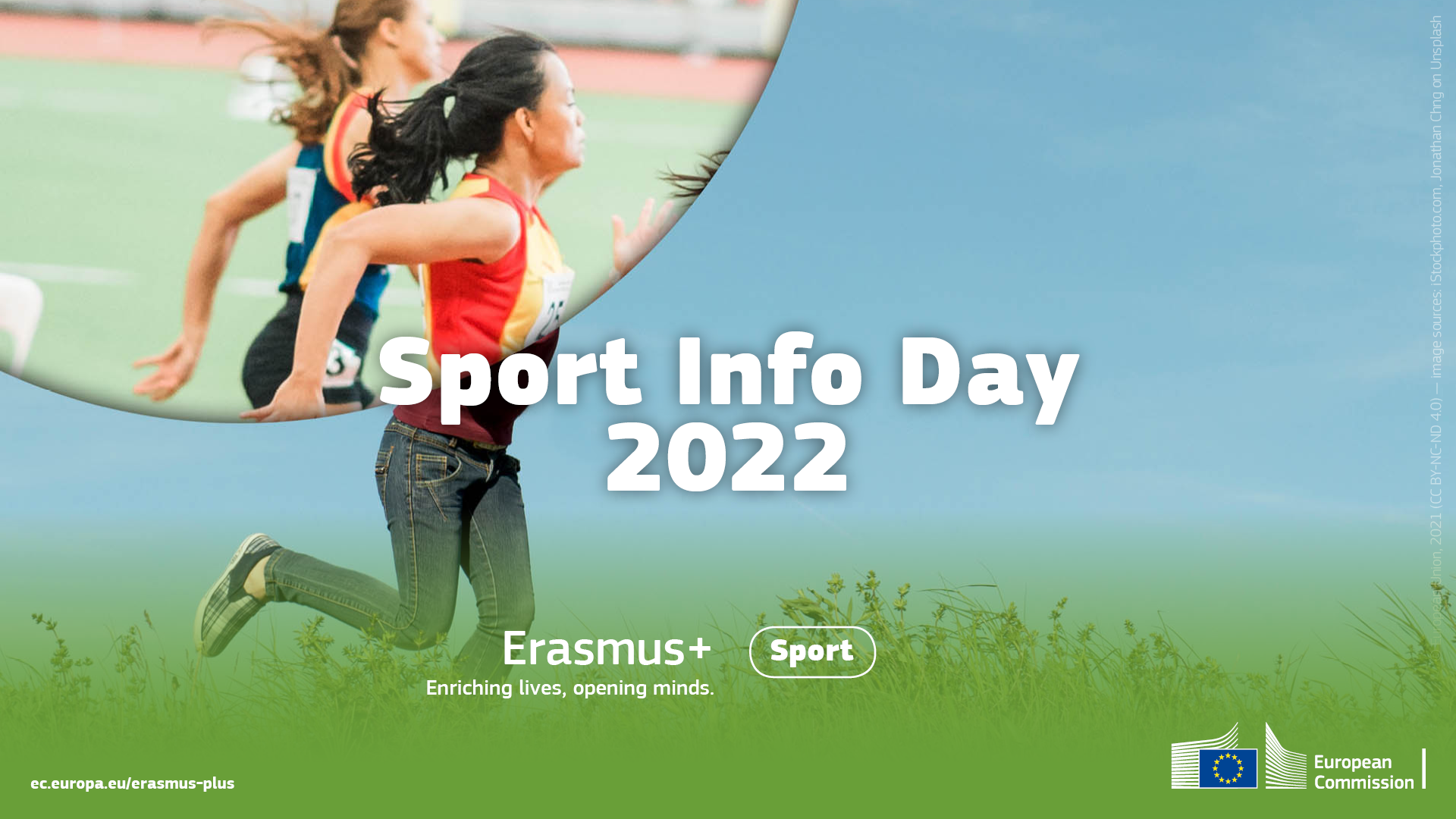 31 January 2022

 9:30-10:00

Opening session

Moderator: Sophie Beernaerts,Head of Erasmus+ Department -EACEA

Mariya Gabriel, European Commissioner for Innovation, Research, Culture, Education and Youth

Tomasz Frankowski, Member of the European Parliament

10:00-11:00

Session 1

Erasmus+ Sport: Objectives and structure

Moderator:Yves Le Lostecque, Head of Erasmus Mundus & Sport Unit – EACEA

Gael Broze, Head of Sport Sector – EACEA

11:00-11:30

Break & Networking 

11:30-12:30

Session 2

Erasmus+ Sport: Round table on Programme Priorities

Moderator: Florencia Van Houdt, Head of Sport Unit – DG EAC, European Commission

Stefano Pintus, Sport Unit, DG EAC – European Commission

Iva Glibo, ENGSO Youth coordinator of the Health Working group

Heidi Sulander, Permanent Representation of Finland to the EU

Gloria Viseras,Former gymnast, Erasmus+ Sport project coordinator

Jean Gracia, European Athletics

12:30

End of the first day
                  
           

1 February 2022

                       

9:30-9:45

Welcome session

Yves Le Lostecque, Head of Erasmus Mundus & Sport Unit – EACEA

Guillaume Arduin, Permanent Representation of France to the EU

9:45-12:15

Working sessions

Moderator: Luciano Di Fonzo, Deputy Head of Erasmus Mundus & Sport Unit – EACEA

9:45-10:30

Session 3

Erasmus+ Sport, How to apply?  Submission procedure technical details

Marco Boursier - Miguel Romero, EACEA

10:30-11:15

Session 4

Erasmus+ Sport, How to present your project? Funding mechanism, work packages and most frequent mistakes

Helena Kamencikova -Marc Patuzzo, EACEA

11:15-11:30

Break & Networking via ConnexMe app

11:30-12:15

Session 5

Erasmus+ Sport, How do we evaluate projects? Evaluation process in detail

Myriam Rancon -Zanete Tifentale, EACEA

12:15-12:30

Conclusions

Luciano Di Fonzo, Deputy Head of Erasmus Mundus & Sport Unit – EACEA

12:30

End of the Info Day